Break into your dream industry with HempStaff Basic Cannabis Dispensary Training
While the wave of marijuana legalization is sweeping through the world, it's time to get your foot in the door. Do you have your eyes set on a decent job in the rapidly growing industry? Our Basic Cannabis Dispensary Training can be your starting point to acquire the necessary knowledge and skills to become a perfect candidate.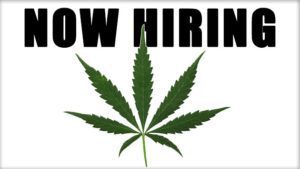 Now that the cannabis industry is inundated with opportunities, you can learn with HempStaff to seize yours. Medical marijuana dispensaries, recreational cannabis dispensaries, hemp stores, growers, breeders, concentrate producers and other marijuana-backed companies have job openings with competitive salaries too often to miss out on. There's something they all share: cannabis businesses are on the lookout for candidates who are well-versed in the marijuana plant, the cannabis products they sell and proper dosing.
HempStaff is an industry-leading company with over eight years of experience running cannabis training courses and filling junior to senior positions. As a HempStaff training enrollee, you will pave the way for a successful career in the marijuana industry, even if you've never been involved in it.
How do you start? This 3-hour, fast-paced online course is a great way to get the ball rolling. Once you complete it, you'll learn to better understanding of the industry you want to work in and get a certificate of completion, making your resume way more appealing for employers.
What will you dive into with the HempStaff 3-hour Cannabis Dispensary Basic Training?
This online training will guide you through many ins and outs of working in the cannabis industry and equip you with the knowledge to get a job as a patient consultant, budtender, patient advocate or dispensary agent. To put it in the learning context, this marijuana dispensary course takes you through:
Botanical aspects. You'll learn how to tell Sativa from Indica and broaden your knowledge about cannabinoids and terpenes.
Marijuana and its impact on the human body. This section looks into the endocannabinoid system and how the human body may respond to the active ingredients of the marijuana plant.
How a marijuana dispensary works. You'll plunge into a dispensary's daily routine and learn about your responsibilities.
Cannabis products and how they are used. HempStaff Basic Cannabis Dispensary Course touches on the most sought-after cannabis varieties along with consumption options.
CBD and THC dosage. You'll learn to advise medical marijuana cardholders or recreational users on what product is best for their condition and how much they should consume for a safe treatment experience.
In-depth manual. After receiving your Basic dispensary certification online, you can remind yourself of what you've learned with a 30-page manual. Bonus: it's included in the price of this course when you take the live Zoom course. HempStaff cannabis basic training is run by qualified marijuana pros with over seven years of experience. Some students call them gurus, and for a good reason.
Why choose HempStaff to take your first marijuana dispensary course?
HempStaff has helped thousands of those looking for a career change get their dream jobs. Today, these people share their knowledge with others and have become reputable growers, dispensary managers, marketers, breeders and educators.

We stand behind our reputation and aim to contribute to the development of the US cannabis industry. Our 3-hour cannabis basic training is often considered a springboard towards where you want to be as a cannabis professional so that you can do your part for the entire sector.

Not enough for you? Well, here are so more reasons you may want to learn with HempStaff:
Our instructors are marijuana-savvy experts who know what you need to learn for this industry and know how to bring it to life.
This Basic course helps you stand out from other candidates as you apply with this certification on your resume
It boosts your confidence so that you can get through a job interview with your head held high with the knowledge you have obtained.
HempStaff students are highly valued among employers nationwide.
A sharable digital certificate is awarded to each of our students, this can be shared via email or social media.
You can deepen your knowledge with our Advanced Course, Cultivation Course, Manager Course or Sales Course.
Go to the HempStaff Reviews section to find out what other students and job seekers think about HempStaff Cannabis Dispensary Basic Training. This may be your chance to transform your life in just 3 hours!
Click Here to purchase On Demand starting at $79
Not ready to purchase a training seat yet? Register with HempStaff to be emailed about future training courses.