Starting at $99
Length: 2.5 Hours
Format: On Demand
Audience: Already a manager or are looking to become a dispensary manager
Click Here to purchase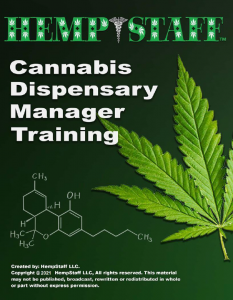 Learn to become a better cannabis dispensary manager
Are you looking to break into the booming marijuana industry? Do you want a job to manage a dispensary but don't have any experience in the cannabis world? HempStaff can help you with comprehensive 2.5-hour online marijuana dispensary manager training. With widespread legalization, there has been a massive spike in the number of dispensaries offering recreational and medical cannabis. However, not so many people are well-versed in the products and the business model. Given the growing shortage of skills in this sector, it doesn't come as a surprise that there are many high-paying jobs you can apply for, including dispensary manager positions. HempStaff marijuana dispensary manager training can be helpful for job-seekers, specialists, and those who own a business and would like to manage it on their own. What you get in return is invaluable knowledge and insights into planning highly effective procedures and coordinating operations. Poor management results in increased expenses, decreased profits, low productivity, and high employee turnover. You can avoid this by training with HempStaff to become a better fit for the role. Please note: this training can be completed as part of your annual training if required by the state you're operating in. It counts as 3 hours of annual training and proves you've upgraded your knowledge.
What's included in this 2.5-hour online marijuana dispensary manager training?
Managing a dispensary is not like managing a retail store. This is what we emphasize in our cannabis dispensary manager webinar. From supervising staff and tracking inventory to following regulations and cultivating a great work culture, we guide you through everything a professional dispensary manager should be adept at.  By joining this training, you'll learn:
Opening and closing procedures

. Arranging dispensary processes with regular checklists allows for better organization, improved security, and smooth functioning. This training will teach you the ins and outs of opening and closing procedures, inspections, and meetings to avoid interruptions during business hours.

Inventory management

.

Due to strict state regulations, marijuana products are sold on a lot-by-lot basis. Poor inventory management may land you in trouble with some serious consequences. This training includes effective inventory management practices that streamline daily operations and help you minimize risks.

Cash flow management

.

The lifeblood of every business, cash management is not the easiest responsibility of a dispensary manager. We will guide you through all cash-related procedures and best practices so that you know how to ensure smooth cash flow across a dispensary.

Storage

.

Proper storage is essential to the success of any cannabis business since products must always be stored in optimal conditions. As part of HempStaff cannabis dispensary manager training, we look into the best storage strategies that minimize damage and make inventory easily accessible.

Delivery

. Providing cannabis delivery services is not as easy as it sounds. With this course, you'll learn to oversee the delivery process to improve customer satisfaction while getting their products to their doorsteps.

Staff management and training

. As a dispensary manager, it is your duty to provide proper education and guidance to staff. It's time to build an effective training program to fill knowledge gaps and develop soft skills that can help drive growth in a cannabis dispensary.

Compliance

. Strict regulations on the use of cannabis are associated with frequent audits and inspections. This course can prepare you to stay on top of your game as you manage a dispensary and ensure compliance with your products and processes.
Career prospects for a certified marijuana dispensary manager
Managing a cannabis dispensary can be challenging, and adopting best practices is crucial to stay competitive in this industry. For those looking to prove their mettle, it's necessary to be certified as a dispensary manager. Here's how a certificate can help you:
It shows you've acquired adequate knowledge in managing a dispensary

It gives you a mark of distinction that sets you apart from other applicants

It serves as external validation of your knowledge

It demonstrates your dedication to learning the different aspects of being a dispensary manager

It encourages your employer to invest further in your training
HempStaff online cannabis dispensary manager training comes with a certificate of completion that adds immense value to your profile. With it, you can get more job opportunities as a dispensary manager. Plus, certified managers are usually paid higher than those who do not hold any certification.
Reasons to purchase this cannabis dispensary manager training and learn with HempStaff
HempStaff has been training talented individuals like you for eight years. A lot of our graduates have made it in the cannabis industry and have become senior employees and even proud dispensary owners. It doesn't matter whether you've worked as a manager in the cannabis industry. This 2.5-hour course will take you on the journey to understand how things work in a dispensary and what you can do to make them work better.  Here's why else you may want to purchase the marijuana dispensary manager course and let HempStaff trainers transform your professional skills:
Our trainers are extremely knowledgeable about the cannabis plant and understand what cannabis consumers expect from dispensaries.

You will be confident when applying for a job since you will have the knowledge to tackle any questions and challenges that come your way.

Your job application will stand out when you show HempStaff certification to the potential employer.

We provide a digital certificate that you can easily share via email.

Several pricing options are available, and all of them are way cheaper than other training programs for cannabis dispensary managers in the US.

If you have previously taken any course at HempStaff, you can get an additional $50 discount.
Take a look at our reviews section to find out what value this cannabis dispensary manager training has already brought to others. We are proud to help people fulfill all their professional aspirations. The training is available on demand. You can enroll right now or whenever it works for you. If you have any questions regarding the course, certification, or pricing, feel free to contact us. 
ON DEMAND Dispensary Manager Training – Click Here
Not ready to purchase a training seat yet?  Register with HempStaff to be emailed about future training courses.