How Much Do Budtenders Make on Average?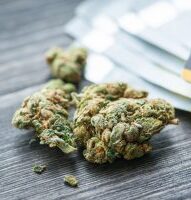 If your state has legalized recreational or medical marijuana (or you're about to move to a state that does), you may be considering a career in cannabis. There are a multitude of ways to break into the cannabis industry! But the easiest way to begin your cannabis career is as a budtender, also known as a dispensary agent.
How much do budtenders make? Of course, working in a dispensary will be fun and fulfilling. But you need to know if you can survive on a budtender's salary. Budtender pay varies from state to state, and even from dispensary to dispensary. In short you can expect anywhere from $11 to $17 per hour depending on many variables.
In this post, we'll break down everything you need to know about the budtender career path and how you can be able to make a living selling cannabis legally!
What Is a Budtender?
A budtender is essentially the cannabis equivalent to a bartender. This is where the word comes from of course. Usually, the "budtender" refers to anyone who sells marijuana at a dispensary. But a true budtender is so much more than just a salesman or cannabis clerk. 
Budtenders are people who are passionate and knowledgeable about everything marijuana. They know different cannabis strains and products very well, are familiar with different methods of intake and dosage. Budtenders need to be able to explain it all in a straightforward way as they serve as the intermediary between cannabis and the public.
Budtenders also provide a great customer service experience, much like traditional bartenders. Out West, this type of budtender are becoming more and more common at cannabis-friendly cafes and lounges. Budtender careers are not limited to the dispensary alone as cannabis evolves!
Think of budtenders more as cannabis sommeliers than as bartenders. They're not just rolling your joints; they've dedicated themselves to learning how to recommend the perfect strain and know how cannabis works in the human body.
What Budtenders Do
Like any other retail or service worker, budtenders make sure their store is clean and presentable. They stock shelves, check out customers, and sweep at the end of the night. All that is to say: being a budtender is fun, but it's still work!
In addition to normal store upkeep, budtenders should be knowledgeable about marijuana and cannabis. Some dispensaries offer budtender education programs once hired while others expect you to come in with a baseline level of knowledge and learn more on the job, which may mean seeking out your own budtender training courses.
The daily tasks of a budtender include:
Recommending cannabis products to customers
Talking potential customers through their purchase
Scanning the orders and entering them into the POS System
Cash handling to complete the transaction
Stocking shelves and cannabis products
Though this differs greatly from dispensary to dispensary and state to state.
How Much Do Budtenders Make?
It's difficult to give a definitive answer because a budtender's salary differs between states and dispensaries. A corporate dispensary looking for a part-time hire won't pay as well as a small shop seeking a long-term employee. But most budtenders are paid hourly and work in shifts.
Generally, budtenders are paid between $11 and $17 an hour. Many dispensaries are moving toward a $15 an hour minimum wage, but a survey by Indeed.com found that the average budtender salary is just below $13 an hour. Experienced budtenders warn not to accept a wage below $11 an hour; anything lower is exploitative.
That said, some budtenders may also receive tips. You may not bring home hundreds in cash every night, but may get a nice little bonus at the end of the week, especially if you are involved in deliveries. Some dispensaries also offer commissions or sales bonuses, but this isn't too common yet.
The perks of being a budtender are plentiful and may include discount cannabis, access to cannabis products first and finding a community of marijuana enthusiasts! It is a fulfilling career path, and this industry is just getting started!
Becoming a Budtender
If you already consider yourself a marijuana enthusiast and have some previous retail experience, you're a great candidate for budtender jobs in your area. If you're a newbie to the world of cannabis, you can always enroll in a cannabis crash course. These seminars teach you everything you need to know before beginning your cannabis career. At HempStaff, we believe that hemp and cannabis are the future, and seek to prepare you for a fulfilling career!
What Makes for a Great Budtender
There is no one recipe for a great budtender. But there are a few things that help one become great.
Because budtending is a customer-focused job, a great budtender is good with people and enthusiastic. Though it is technically a sales position, a great budtender is focused on meeting the customer's needs instead of making a big sale. They're friendly and can talk for hours, and are able to stay on their feet for extended periods of time.
If you've worked as a bartender or server, you're a great candidate for budtending as well. Being able to handle long days and high amounts of human interaction are bonuses.
The bottom line for being a great budtender is knowing and loving cannabis. Being enthusiastically knowledgeable about your dispensary's products and services will make you a great worker. After all, who isn't excited to work around cannabis all day?
Budtenders: The Front Line of The Dispensary Industry
We hope you're no longer asking yourself "how much do budtenders make?" and are now asking "how can I apply to be a budtender?" Becoming a budtender is an exciting and wise career decision. If your state has only recently legalized, you can get in on the ground floor of recreational or medical sales.
To learn more about cannabis careers in the burgeoning hemp and cannabis market, visit our website. At HempStaff, we seek to provide comprehensive education on working in the cannabis sector. Check out our upcoming cannabis training courses or current open cannabis jobs.